FIND YOUR VOICE ; INFLUENCE OTHERS.
IT'S NOT ENOUGH TO JUST BE A GREAT WRITER AND EDITOR
That's the bare minimum for an effective digital marketer. In fact, it's easier for the average marketer to say that they specialize in content marketing, thought leadership, demand generation and simply outsource the work to a network of vendors.
At Minitrue, we appreciate and understand the labor that goes into building remarkable content that your audience will read, listen, and watch. We are the union of marketing technologists, filmmakers, writers, and artists who are here to understand your goals and help you reach that audience.
With a clear understanding of your business goals we are ready to:
Educate you on the medium you choose.
Brainstorm and develop your content.
Manage your vendors to satisfy your timeline and your budget.
We work with our clients to educate them on the benefits of content marketing and turn them into thought leaders in their industries.
We work with our clients to brainstorm, script, and build their content.
We identify the appropriate distribution channels and optimize client content for mobile and web.
We analyze the content performance in relation to client business goals.
WRITING &
EDITING SERVICES
VIDEO PRODUCTION
& EDITING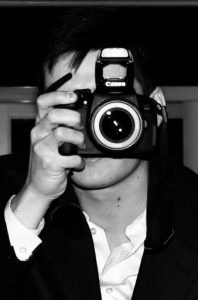 MEET JAMES FINN,
PRINCIPAL CONSULTANT & EXECUTIVE PRODUCER
Effective people and organizations tell compelling stories to move people to action. James Finn has helped individuals and small companies become effective storytellers to their respective audiences.
He started as a production assistant on an indie film set, as well as in client services at two creative agencies. These early experiences taught him the tools to succeed in video and sound mixing. With these skills, James saw their use beyond entertainment. With marketing's focus on storytelling and content production, James saw opportunity. He has collaborated with museums, nonprofits, and both small and large software companies.
James runs his own travel blog. He is a filmmaker and photographer. He is also a proud member of the United States Army National Guard.
Minitrue is unlike agencies you may have worked with – we are guides, teachers, and partners. With Minitrue you focus on what you want to say, your story, and we handle the rest.
Contact us today and lets see how we can work together.